NorthStar...Leading the way
NorthStar gets two new Chevy crew cab trucks with aluminum bodies to increase fuel efficency and more!
These Reading truck bodies are made in the USA with 100% recycled aluminum alloy, resulting in an 11% savings in fuel costs.
As NorthStar replaces older crew cabs they continue to invest in the aluminum truck bodies. We have had a history of recycling these bodies onto newer cabs as the trucks have aged. These new Chevy aluminum trucks offer NorthStar the following advantages:
1. This truck body is made to stand the test of time in the construction business
2. Increased payload over the comparable steel truck body
3. The lighter weight puts less wear and tear on the truck's chassis
4. Inherently corrosion resistant
5. A 10 year limited warranty - twice as long as comparable steel truck bodies
NorthStar's Owner thanks Leominster Firefighters who rescued him after a fall!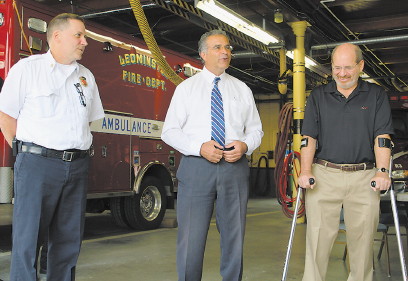 Leominster Mayor Dean Mazzerella, center, talks about John La Stella, right during La Stella's visit to the Fire Department to thank firefighters for helping him on April 30, when he fell off a roof and down an embankment. At left, is Fire Chief Robert Sideleau.
For more on this story click here
NorthStar Construction Noted for Safety & Sustainability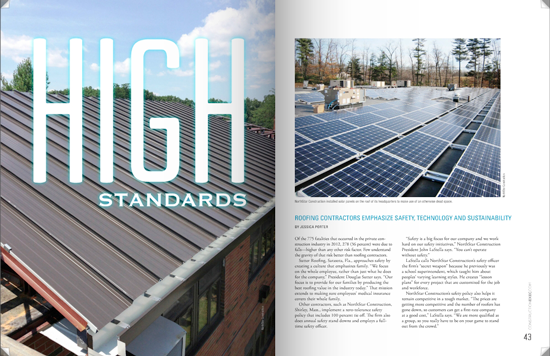 "CE" CONSTRUCTION EXECUTIVE Magazine features NorthStar in the March 2014 Issue in an article titled "High Standards" This article discusses NorthStar's dedication to safety, technology and sustainability. Please click the magazine title above to view the article.
Certified Solar Roofing Professional at NorthStar
Ryan Dill, Project Manager for NorthStar has successfully completed the requirements for certification from Roof Integrated Solar Energy (RISE) as a Certified Solar Roofing Professionals.This certification identifies Ryan as a Project Manager and Designer for Solar Roofing projects. Ryan is one of only 5 Certifed Professionals in Massachusetts. This gives NorthStar a unique advantage to have an experienced roofing Project Manager now able to manage all aspects of Solar Roofing projects.
With Winter Comes Training for the Team!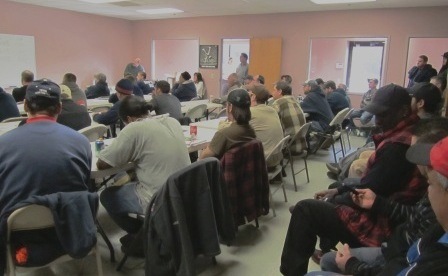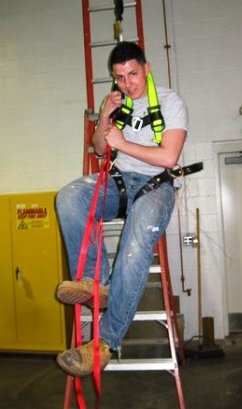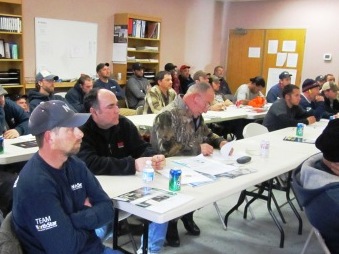 NorthStar puts the colder weather to good use with training to build techinical skills and increase safety awareness. This year we participated in:
1. OSHA 30 Program for our Supervisors and Foremen
2. OSHA 10 Program including many of our subcontractors in NStar's training room.
3. Our 8th Annual Fall Protection Safety Stand Down Training Day for all of Northstar in our onsite training room.
4. Annual Sponsors for NERCA's OSHA 10 Program delivered at NERCA's 2014 Meeting
Solar Developments!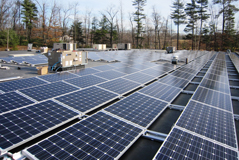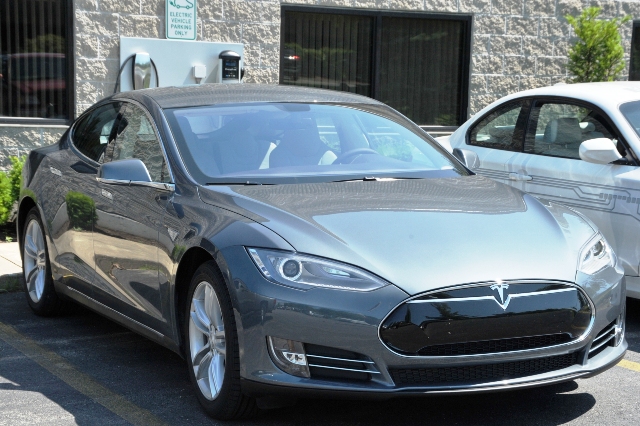 NorthStar Construction is proud to have gone solar with the panels shown here on the roof of our facility, installed by SouthPoint Solar. This system provides 100% of our annual energy needs. We have also taken solar power from "the roof to the road!" This fully electric vehicle is charged with 100% "green energy" from the solar panels on our roof.
NorthStar also offers access to our charging station to the community through ChargePoint, a nation-wide network of EV chargers.